Knitting pattern | Breakthrough Shawl
I love the look of I-Cord shawls!
I enjoy knitting them although they take a little more time. 😉 For this shawl I wished for something that is not to heavy, so I can wear it in the first days of autumn. But it should still have a texture that is making the shawl look like a thick one. This shawl is not made in the regular way. It is coming out from four sections beginning with the I-Cord from the middle. The texture is the result of a simple combination of knit and purl stitches, that brings a relaxing knitting experience. The I-Cord edge gives the shawl the completion.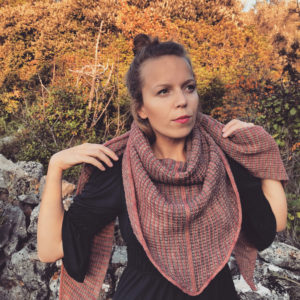 You can find this knitting pattern on Ravelry. <– KLICK
I would really love to see your version of the Breakthrough Shawl. Share your works in
progress and finished objects on social media with #breakthroughshawl and #rinalehmann. I hope you enjoy knitting! Katharina <3